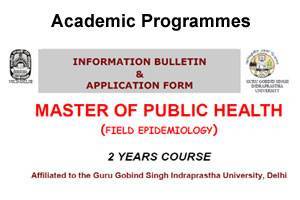 From Master of Public Health ( Field Epidemiology ) ACADEMIC SESSION 2012-13 NATIONAL CENTRE FOR DISEASE CONTROL(NCDC) ADMISSION Notification
GOVERNMENT OF INDIA
NATIONAL CENTRE FOR DISEASE CONTROL(NCDC)
(Formerly National Institute of Communicable Diseases)
(DIRECTORATE GENERAL OF HEALTH SERVICES)
MINISTRY OF HEALTH & FAMILY WELFARE
22-SHAMNATH MARG, DELHI 110054
Tele: 011-23912961/23958613/23989072
Website: www.ncdc.gov.inADMISSION —
ACADEMIC SESSION 2012-13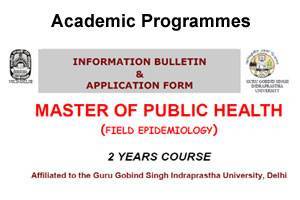 Master of Public Health (Field Epidemiology)
(Affiliated to the Guru Gobind Singh Indraprastha University, Delhi)
ABOUT THE INSTITUTE: The National Centre for Disease Control (Formerly National Institute of Communicable Diseases) started in 1963, is an apex institution under the Directorate General of Health Services, Ministry of Health and Family Welfare, Government of India. The Institute is involved at National and International levels in developing trained manpower and conducting operational studies.
For further details about NCDC, visit www.ncdc.gov.in.
ABOUT THE COURSE AND ADMISSION PROCESS: The Institute conducts a Master of Public
Health (Field Epidemiology) [MPH (FE)] Course of two years duration on full time basis affiliated to the
Guru Gobind Singh Indraprastha University, Delhi. The Entrance Test/ Counseling/ Selection of
candidates for admission to the course is done by the GGSIP University. The Brochure and Application
Form (Admission Brochure- II: Professional Programmes containing details of MPH [FE] Course)
for the year 2012-13 is on sale by the University. The admission details like number of seats, eligibility
criteria, entrance/ counseling dates, fees, availability/ submission of application forms etc. is available
on the GGSIP University website www.ipu.ac.in.
The requisite details as extracted from the University website/Admission Brochure is given in the
following paragraphs for information of candidates. However, the information/details contained in the
University Admission Brochure as well as any related details displayed on the University website
www.ipu.ac.in will be treated as final.
ENTRANCE TEST: The Entrance Test for Admission to MPH (FE) by the University has been
scheduled to be held on 13 May 2012.
ELIGIBILITY: Candidates possessing MBBS degree from any recognized institution are eligible to
apply for the course. The course is open to both Fresh as well as In-service MBBS Graduates. In-service
personnel with the above qualification working in health institutions/organizations in Central/State
governments or Public Sector having 5 years experience, of which at least 3 years should be in public
health activities are eligible. Such candidates, at the time of counseling for admission, would need to
furnish a letter from their employer that, if they are admitted, they would be relieved for two years for
undertaking the course on a full-time basis at NCDC.
AGE: The upper age limit is 45 years for in-service candidates and 35 years for others as on Aug. 1,
2012.
SEATS: Intake will be limited to a maximum of 20 seats. Of these, two seats are earmarked for World
Health Organization sponsored fellows. For the remaining 18 seats, admission will be done on the basis
of an entrance test to be conducted by the University. These 18 seats will be distributed in the ratio of
60% for In-Service Candidates and 40% for Direct Candidates.
Reservation will be as per Government/University norms: 27% for Other Backward Classes; 15% for
Scheduled Castes; 7.5% for Scheduled Tribes; 5% for Defence category and 3% for Physically
Handicapped Candidates.
Note: 1. The course is not recognized by the Medical Council of India.
2. Some of the Provisions contained in this Advertisement are subject to the issue of
Corrigendum by the GGSIP University.