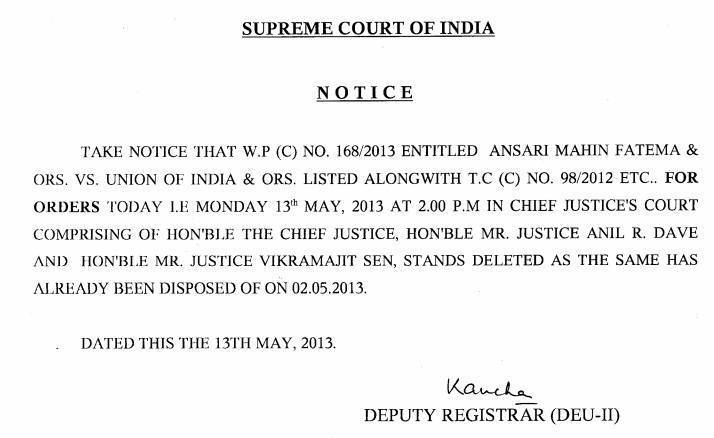 No NEET Hearing on 13th May 2013 ??  Latest Notice from Supreme Court
Please check this  http://supremecourtofindia.nic.in/outtoday/notice13052013.pdf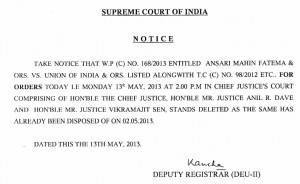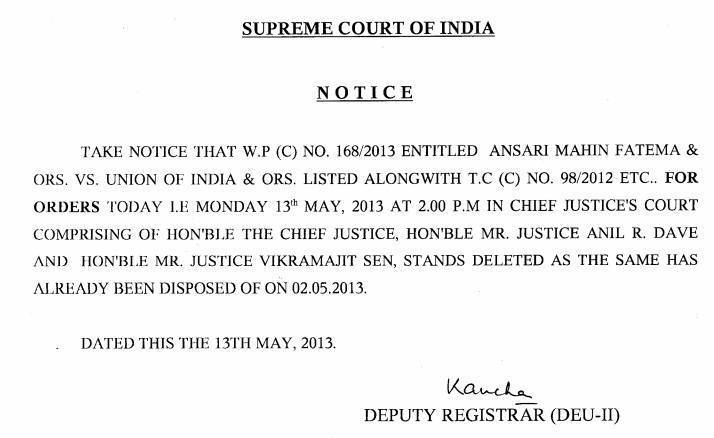 You may be wondering as to who is this Ansari Mahin Fatema, whose petition is not for hearing today. It is also about NEET. SO we are sure that Petition 168/2013 is not for hearing today. We are not sure about Petition 98/2013. We have to wait with our fingers crossed
Check this news from http://www.dnaindia.com/academy/1832666/report-neet-to-be-conducted-for-urdu-medium-on-may-26
The National Eligibility cum Entrance Test (undergraduate), the national-level test for admission to MBBS and BDS courses, will have to be conducted again in Maharashtra.

Following a Supreme Court order, the Central Board of Secondary Education (CBSE) announced on Wednesday that NEET (UG) for Urdu medium candidates will be conducted on May 26.

This has brought relief to Urdu medium students aspiring to get admission in MBBS/BDS.

However, the candidates who have already appeared in the exam choosing other mediums due to absence of Urdu medium won't be eligible to appear again in the supplementary test.

The CBSE has conducted the exam on May 5 across India (except Karnataka due to election) for the first time on behalf of the Medical Council of India (MCI) for admission to the 350 private and government medical colleges. Over 7.26 lakh students appeared for this in India. A maximum number of students applied from Maharashtra (1.15 lakh).

The exam was conducted in Hindi, English and regional languages — Marathi, Bangla, Gujarati, Tamil, Telugu and Assamese (only for their respective state quota seats). CBSE had missed out Urdu medium, one of the mediums in which Maharashtra was conducting the exam till 2012.

Subsequently, a petition was filed by Jamiat Ulama-i-Hind on behalf of Ansari Mahan Fatima, an aspirant from Maharashtra.

A bench headed by chief justice of India Altamash Kabir upheld the rights of students and issued a notice to the central government, ministry of human resource development, CBSE and MCI on May 2 asking them to conduct a supplementary exam for Maharashtra so that students don't suffer.

Application forms for the May 26 exam are available on the CBSE website (www.cbseneet.nic.in).

The exam will be held in Mumbai, Pune, Aurangabad, Nashik, Nagpur and Kolhapur. Over 5,000 candidates are expected to appear.