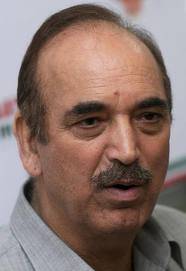 ' South Indian doctors should come north' working in north ': Ghulam Nabi Azad
—
This is almost an open declaration that Regional parties like DMK, ADMK, Shiv Sena, Telugu Desam, Janata Dal (Secular) which have been ruling Southern states have given better governance that the National Parties which are ruling North India
From http://timesofindia.indiatimes.com/city/chandigarh/South-Indian-doctors-should-come-north-working-in-north-Ghulam-Nabi-Azad/articleshow/12917698.cms
' South Indian doctors should come north' working in north ': Ghulam Nabi Azad

CHANDIGARH: For Ashok G S, who received his MD degree in anaesthesia at the 32nd convocation ceremony in PGIMER, Chandigarh, on Saturday, home came all the way to the institute as his father Sunder, 63, and mother Ramila, 57, came along with sister Anita, an engineer, from Tamil Nadu.

Union health and family welfare minister Ghulam Nabi Azad in his convocation address urged young graduates from southern states to serve in north. His request became the point of informal dialogue among doctors from southern states.

The family re-united to witness Ashok's convocation ceremony. The doctors at PGI celebrated the day of achievement with their families. Some even had toddlers in their lap while a few came along with their better halves.

"It is not just the saturation level in south, but several other factors that one considers before settling down in a state. If my parents permit me or settle with me, I would love to serve in northern states," says Ashok, a native of Tamil Nadu who has been in Chandigarh for last 3 years.

Several pass outs from Tamil Nadu, Andhra Pradesh and Kerala felt they were home in the presence of their families. A visibly delighted father, Sunder said it was a big day for him. "It was great to have my family from Tamil Nadu here today," said Ashok, who completed his MBBS in Madhurai, Tamil Nadu.
From http://timesofindia.indiatimes.com/india/80-of-medical-colleges-in-south-India-Azad/articleshow/12917473.cms
CHANDIGARH: Union health minister Ghulam Nabi Azad on Saturday expressed concern over a dearth of medical professionals in north, central and northeastern India while blaming concentration of medical colleges in the country's southern and western regions for the "dismal state".

"Almost 80% of India's medical and nursing colleges are located in the south and the remaining in the remaining two-third portions of the country," said Azad while addressing Postgraduate Institute of Medical Education and Research ( PGIMER)'s 32nd convocation in Chandigarh.

He described inequitable distribution of medical professionals across north and south India as a "lopsided human resource situation".

Azad said the government plans to address the situation by setting up more medical colleges in 2012. "Forty six new medical colleges have been established in last two years, raising the number to 335," he said. He described this as "an encouraging growth trajectory" while saying the number of MBBS seats have also gone up from 32,882 to 41,569. "There has been an 80% increase in the number of seats in the post-graduate courses in last three years. From 13,000 seats, the numbers have gone up to 22,194."

Azad urged fresh medical graduates at the institute, a majority of who are from Tamil Nadu, Andhra Pradesh and Kerala, to practice in north India, while asking those from Nepal and the northeast to return to their respective regions. "We want our neighbors to stay fit and healthy as well."