CET NEET 2013 by National Board : November 23 to December 6, 2012 : Candidates can choose date, centre
–
From http://epaper.indianexpress.com/c/396322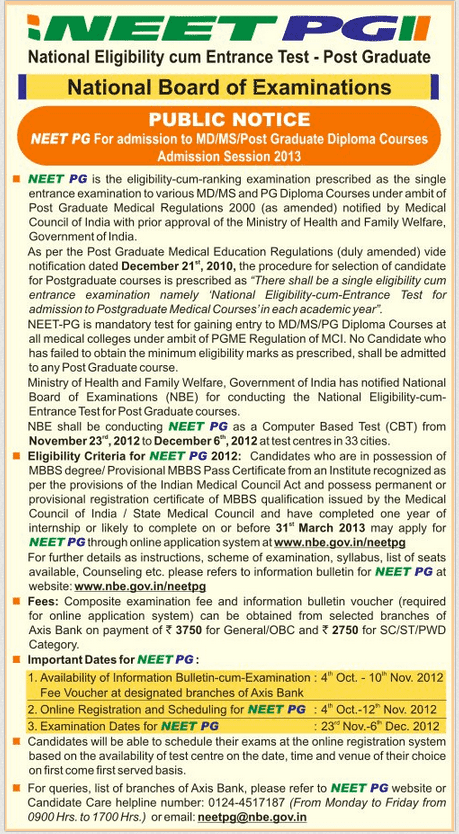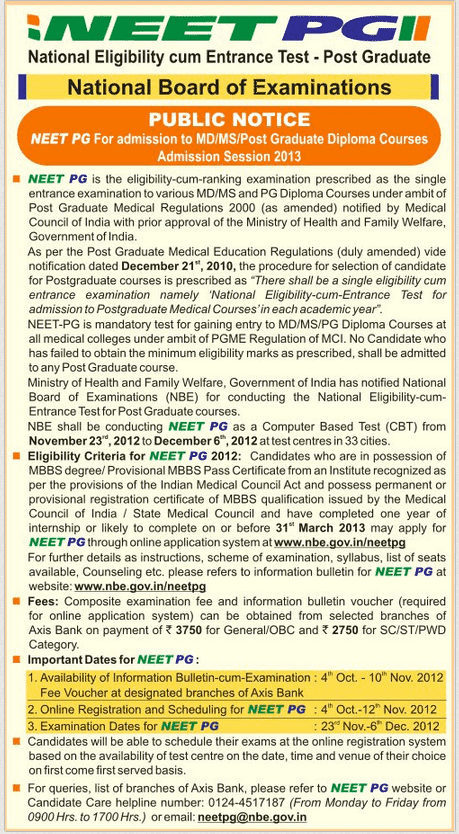 -oOo-
OHC 2 (Operation Harri Capsule 2) is a Crash Course / Intensive Training for
AIIMS 18 Nov 2012,
PGI 11 Nov 2012,
DNB CET 17th to 20th November 2012 and
CET NEET 2013 by National Board : November 23 to December 6, 2012
to be conducted at Chennai from Sep 28,2012 to Oct 09,2012 by POSITIVE PG Entrance Exam Training Centre
The fees for this course will Rs 20000
-oOo-
Please click  All About CET / NEET : Common Entrance Test / National Entrance cum Eligibility Test for the complete coverage
For DipNB CET, See DNB CET: January 2013 : 17th to 20th November 2012 : Diplomate National Board – Centralized Entrance Test : For Admission to DNB Post Graduate Courses January 2013 Admission Session
From http://www.deccanchronicle.com/channels/nation/north/candidates-can-now-choose-date-centre-272
Its official now, the first ever All India "Online test" for Post Graduate medical students will be conducted from November 23, 2012. The new system offers flexibility for aspirants to choose any date between November 23 to December 6, 2012.
After following paper-pencil format for years, this will be the first time that an online test will be conducted for Post Graduate (PG) medical students. Sources in the ministry revealed that the notification with regard to the new computer based testing is likely to come up by next week.
The National Board of Examination (NBE), which agreed to conduct the Common Entrance Test (CET) for PG medical students, decided to replicate the IIM model, an "online test" format for the students. About 36 centres all across the country have been shortlisted. The candidates will also have a flexibility in choosing their centre on first come first basis. "Each state capital will have atleast one centre where the candidate can give the test. The candidates can chose their centre," said senior official.
All candidates who have completed their MBBS intership or those who will be completing it by 31 March, 2013, will be eligible to sit in the exam.
The NBE has had a detailed planning on the new format to which the IIM's had switched three years back.
The new system for PG medical test will offer flexibility for candidates to choose any date in the "fourteen day" period for the test.
From http://www.deccanchronicle.com/channels/nation/north/no-negative-marking-pg-medical-test-678
Aspirants appearing for the first ever all-India "online test" for post-graduate medical test have a reason to smile as it has been decided that there will be no "negative marking" in the test.

To be held from November 23 to December 6,2012, all-India PG seats will be filled up through this exam. Sources in the health ministry revealed that in total 240 questions will have to be attempted in three hours. However, 15 minutes extra will be given for the purpose of orientation. Officials believe that the new dropping negative marking from the test will encourage candidates to make informed guesses and not drop any questions for the fear of deduction of marks.
To make aspirants accustomed to the new method, the National Board of Examination (NBE) is expected to put a "practice test" on the NBE website in October first week. The students can get registered and could try out the new system. "This will help students get used to the new online method. The students could give the practice test sitting at home. There will be multiple choice questions," a senior official said.
The information bulletin and the fee voucher will be available in Axis Bank from October 4, 2012, officials added. It is expected that the result of the test will be declared before January 31, 2013. For both state and national level, counselling will be held after the test.
Tweet