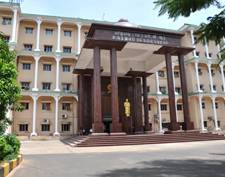 Tamil Nadu MGR University colleges to give 50% PG seats for merit list
From http://articles.timesofindia.indiatimes.com/2012-02-22/chennai/31086505_1_pg-seats-dental-colleges-private-medical-colleges
Tamil Nadu MGR University colleges to give 50% PG seats for merit list

CHENNAI: Starting this academic year, the state medical university will ensure that half of all the postgraduate seats in private medical colleges are filled through the single-window system of counselling. Placing merit on priority in PG medical education, the university has stipulated that students admitted under the management quota to the remaining half the seats should have scored 50% marks in their UG degree.

In the past, private medical colleges affiliated to the university had not been surrendering 50% of their PG seats. This year, the government will be strict about the implementation of this rule, said university vice-chancellor Dr Mayil Vahanan Natarajan. "If they don't, we will not register their students who then won't be able to write exams," he said.

The university had decided to initiate these steps after officials in two private dental colleges in TN were caught on camera demanding capitation fees. The university will send circulars to the colleges to follow these regulations framed by the Medical Council of India and Dental Council of India.

Private colleges are reluctant to share PG seats. A dean of a private dental college said: "We have nine specialties in PG dental education. Each college gets eight seats and only two seats for some specialties. We will not be able to share these scarce seats."

Until 2011, a dozen private medical colleges and 25 dental colleges surrendered 65% of their seats to the directorate of medical education and allowed students to be admitted through the single window, but none of the PG seats were surrendered. These seats are sold to the highest bidder.

There are 30 colleges offering MBBS in the state, but only 17 colleges offer PG degrees. Some of them offer PG diploma courses. The situation in dental education is worse. There are 26 dental colleges, including one government college, offering 2,080 Bachelor of Dental Surgery (BDS) seats. Ten colleges offer 174 PG seats. Barring the 37 PG seats in the Government Madras Dental College, PG dental education in TN is entirely under the private sector. No college surrenders PG seats to the government.

A government-appointed committee ensures these colleges conduct entrance tests, but none monitors the entire admission process. Private colleges have formed an association to hold a common entrance test. Till date, none of these colleges has been pulled up for violating admission norms.

According to MCI guidelines, in non-government institutions, 50% of seats are to be filled by the competent authority and the remaining 50% by the management of the institution on the basis of merit.