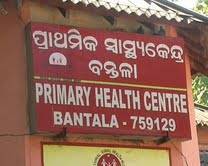 ORISSA ODISHA Rural Service : Govt medical college students to serve in rural areas for three years
When there is a good model from Tamil Nadu, which is working for the past many years, one cannot understand, why other governments have to resort to such tactics
See here for the The Tamil Nadu Compulsory Rural Service Model
http://timesofindia.indiatimes.com/city/bhubaneswar/Govt-medical-college-students-to-serve-in-rural-areas-for-three-years/articleshow/14662551.cms
ORISSA ODISHA Rural Service : Govt medical college students to serve in rural areas for three years

BHUBANESWAR: To curtail the gross shortage of doctors in the state, the government on Tuesday reiterated that students taking admission in state-run medical colleges will have to serve three years in the government sector or refund the cost of education."Students have to sign a bond that they will serve for three years in backward areas as posted by the government or repay the amount as signed in the bond," health secretary Pradipta Kumar Mahapatra told reporters here.

Though the government had notified the uniform policy for all categories of medical students, asking them to make a commitment while taking admission to serve in government sector for at least three years or repay Rs 5 lakh to Rs 15 lakh a few months ago, the format of the bond was approved only recently.

"We got approval for the format of the bond recently and forwarded the same to the respective principals of medical colleges. Students have to sign the agreement while taking admission," said director medical education and training ( DMET) Dr P K Das.

For the past three years, MBBS and BDS students taking admission under state quota seats were making commitment to work in rural areas. State quota seats comprise 85% of the total 450 seats in government medical colleges. However, students taking admission under the 15% AIPMT (all India pre-medical entrance test) quota were not signing such bonds. The new rule applies to all students, from undergraduate to post doctoral level.

The MBBS/BDS students will commit to serve a minimum of three years in KBK region or any other tribal areas or else pay Rs 5 lakh to the state in case of default. Post graduate (MD/MS) students will ink a pact to serve for three years in the same region or else pay Rs 10 lakh. For super-speciality courses (DM/MCh), the candidates will have to work in government institutions for three years or else pay Rs 15 lakh.

General nursing and midwifery ( GNM) and auxiliary nursing and midwifery (ANM) students too will have to sign the agreement to serve as posted by the government for three years or pay Rs 1 lakh and Rs 50,000 respectively.

The government's tough posturing comes days ahead of medical counseling to be held within another week. Das said the government received the Union health department's letter for final recognition of 150 MBBS seats in MKCG Medical College and Hospital Berhampur and is expected to receive similar recognition letter for 150 seats in VSS Medical College and Hospital Burla within two to three days. Counelling will start after that, he said.