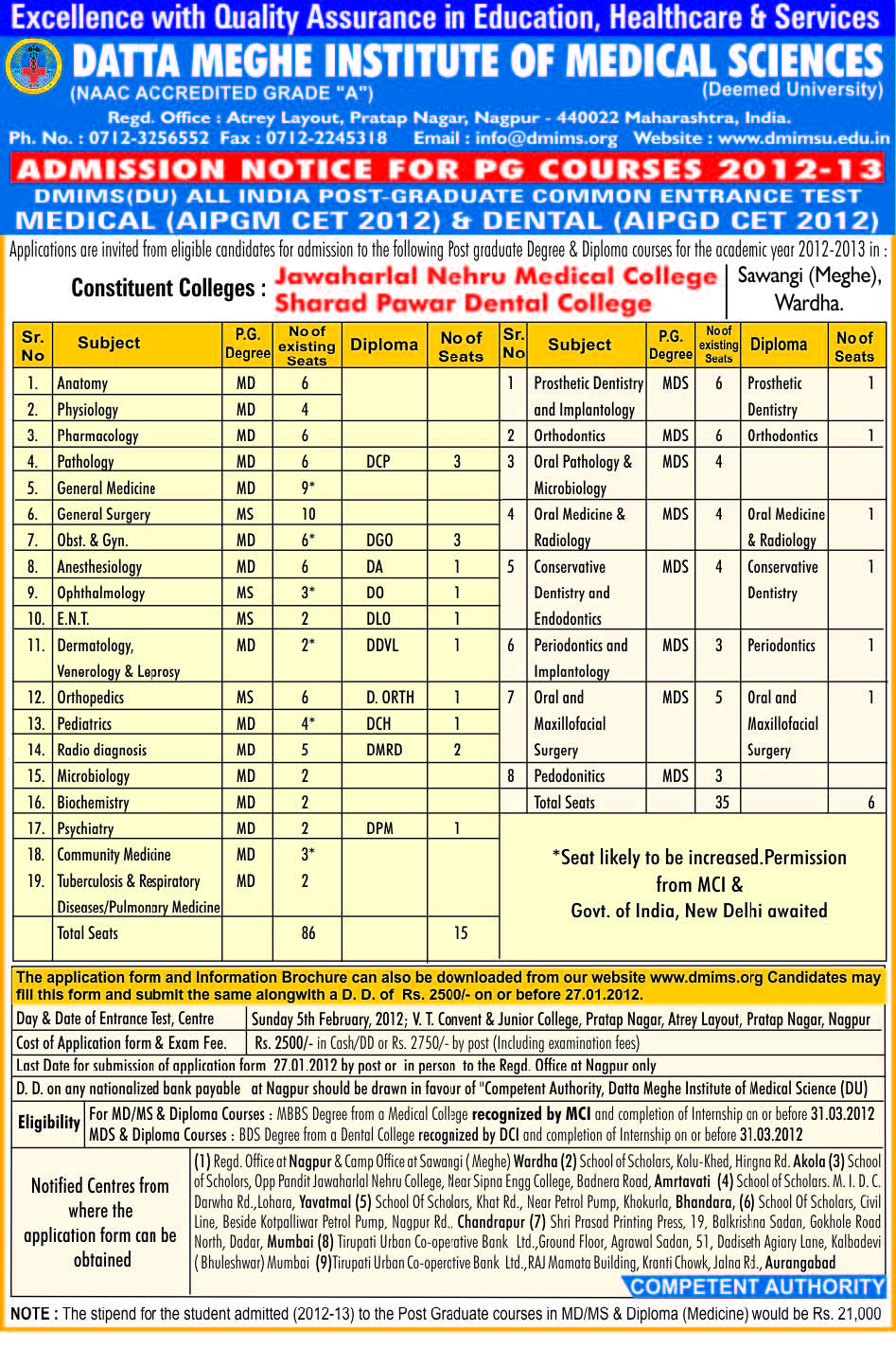 AIPGMCET 2012 AIPGD CET 2012 DMIMS, Datta Meghe Institute of Medical Sciences, Sawangi (Meghe), Wardha, Nagpur  on 5th feb 2012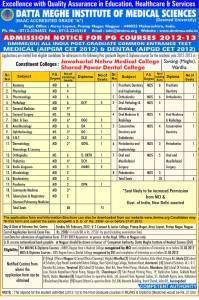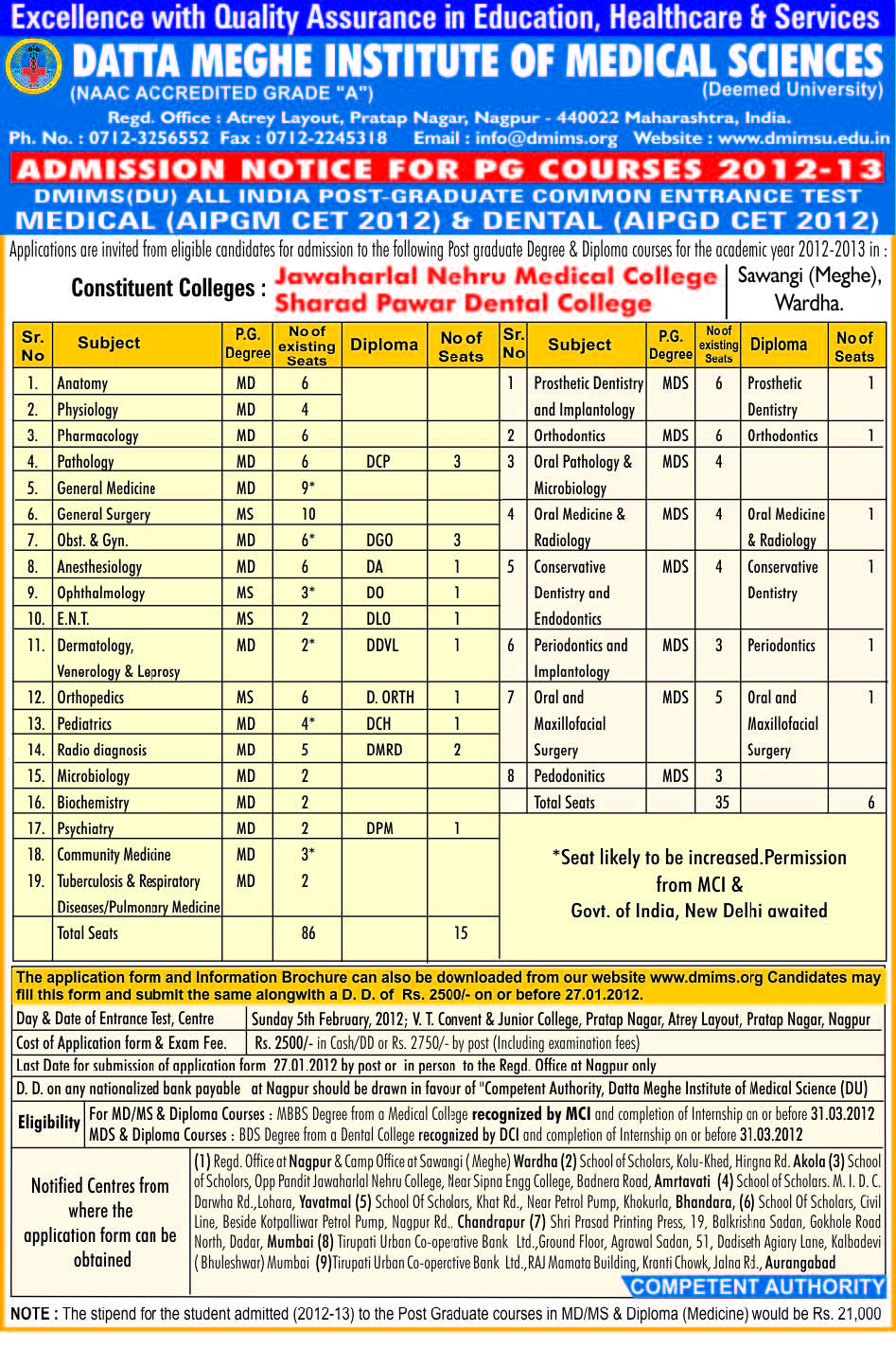 Datta Meghe Institute of Medical Sciences – a Deemed University was granted this status by the University Grants Commission in 2005. Its Chancellor is Hon'ble Shri Dattaji Meghe and its founder Vice-Chancellor is Dr. Ved Prakash Mishra. It is the first self funded University of this region and another feather was added to its cap when it was accredited with an "A" grade by the National Assessment and Accreditation Council (NAAC) which is an autonomous body set up by the University Grants Commission. The University is focusing on research and the pointers towards its growing esteem in this regard are the B.C. Roy Award for Research which was conferred on the University by Her Excellency Shrimati Pratibha Patil, the President of India on the occasion of the 'Teacher's Day' and also the indexing of its house journal in only its third year of existence thereby becoming only the second Deemed University in the country to be worthy of this honour inspite of being located in a rural area. In order to further strengthen and provide impetus to research, a separate department namely "Datta Meghe Department of Post Graduate Education and Research" has been created.
The constituents of the Deemed University are located in a 125 acre campus in Sawangi (Meghe), Wardha about 70 kms from Nagpur, Maharashtra, India which is the geographic centre of India. It is located away from the hustle and bustle of the city amidst serene surroundings in a self sustaining complex which has all the facilities such as Bank, Post Office, Shopping Complex, Sai Temple, Ultra modern gymnasium and above all, an excellent academic ambience. It is very well connected by road, rail and air (via Nagpur) to all the major cities in the country. Nagpur has now become an international airport with direct flights from Dubai, Sharjah and Doha and many more on the anvil in the near future.
http://www.dmimsu.edu.in/
Regd. Office
Address : Datta Meghe Institute Of Medical Sciences (Deemed University)
Atrey Layout, Pratap Nagar, Nagpur – 440 022 (M.S.) India.
Phone : + 91-712-3295207,3295234
Fax : +91-712-2245318
E-mail : [email protected]
Website : www.dmimsu.edu.in
Camp Office
Address : Sawangi (Meghe), Wardha- 442005, Maharashtra, India.
Phone : 07152-287701, 287702, 287703, 287704,287705, 287706. EXT- 338
Fax : 07152-287714
E-mail : [email protected]
The constituents of Datta Meghe Institute of Medical Sciences University are : –
Jawaharlal Nehru Medical College (JNMC)
Sharad Pawar Dental College (SPDC)
Mahatma Gandhi Ayurved College (MGAC)
Smt. Radhikabai Meghe Memorial College of Nursing (SRMMCON)
Ravi Nair Physiotherapy College (RNPC)
School of Advanced Studies (SOAS)