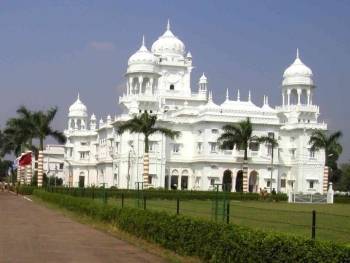 From http://articles.timesofindia.indiatimes.com/2012-02-27/lucknow/31103479_1_uppgmee-csmmu-shahuji-maharaj-medical-university
CSMMU : 3,794 candidates appear in UPPGMEE 2012 : Uttar Pradesh Post Graduate Medical Entrance Examination

LUCKNOW: Chhatrapati Shahuji Maharaj Medical University (CSMMU) organized the UP Post Graduate Medical Entrance Examination(UPPGMEE)-2012 on Sunday. Out of the total of 3,926 candidates who had registered, 3794 appeared in the examination. As per chief proctor, CSMMU, Prof AA Mahdi, the examination was conducted peacefully. Teachers, district administration, and officials of director general of medical education showed full cooperation in conducting the test. The exam was held at six centres, out of which three were at UPSC Bhawan, Netaji Subhash Chandra Girls College, Mahanagar Boys College.Four teams from CSMMU comprising the vice-chancellor, registrar, finance officer, dean, medicine and dean dental, chief medical superintendent and medical superintendent took rounds of all the centres.
The King George Medical University, Lucknow, established in 1911, has been a frontrunner among medical education institutions in the country By an act passed by the Government of Uttar Pradesh on the 16th September 2002, the college was transferred under a new university…
In 1870, the Maharaja of Vijaynagaram first floated the idea of starting a medical college in Lucknow and offered to donate Rs 3 lacs, but due to paucity of funds this was not passed by the Government and the dream of the Maharaja could not take shape. It was in 1905 that, to commemorate the visit of Prince of Wales to India, the Raja of Jehangirabad and Sir Taussuduq Rasool requested the Raja of Ayodhya to persuade Sir James LaTouche, Lt. Governor of United Provinces (now Uttar Pradesh) to recommend the establishment of the medical college to the Governor of India. This time the Government gave its sanction but with the condition that the people of United Provinces raise a sum of Rs 8 lacs.