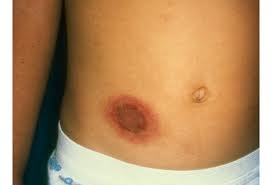 Fixed Drug Eruptions FDE Cotrimoxazole
-oOo-
Adverse reactions to medications are common and often manifest as a cutaneous eruption.
Drug-induced cutaneous disorders frequently display a characteristic clinical morphology such as morbilliform exanthem, urticaria, hypersensitivity syndrome, pseudolymphoma, photosensitivity, pigmentary changes, acute generalized exanthematous pustulosis, lichenoid dermatitis, vasculitis, Stevens-Johnson syndrome, or fixed drug eruption (FDE). The term fixed drug eruption describes the development of one or more annular or oval erythematous patches as a result of systemic exposure to a drug; these reactions normally resolve with hyperpigmentation and may recur at the same site with reexposure to the drug. Repeated exposure to the offending drug may cause new lesions to develop in addition to "lighting up" the older hyperpigmented lesions.
When able to be identified, patients often report ingestion of one the following types of medications[22] :
Analgesics
Muscle relaxants
Sedatives
Anticonvulsants
Antibiotics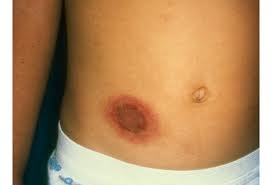 FDE Fixed Drug Eruptions caused by Drugs
Drugs causing fixed eruptions: a study of 450 cases.
Int J Dermatol. 1998 Nov;37(11):833-8.
Drugs causing fixed eruptions: a study of 450 cases.
Mahboob A, Haroon TS. Department of Dermatology, King Edward Medical College/Mayo Hospital, Lahore, Pakistan.
BACKGROUND: Drug eruptions are among the most common cutaneous disorders encountered by the dermatologist. Some drug eruptions, although trivial, may cause cosmetic embarrassment and fixed drug eruption (FDE) is one of them. The diagnostic hallmark is its recurrence at previously affected sites.
OBJECTIVE: We evaluated 450 FDE patients to determine the causative drugs.
RESULTS: The ratio of men to women was 1:1.1. The main presentation of FDE was
Circular hyperpigmented lesion. Less commonly FDE presented as:
nonpigmenting erythema,
urticaria,
dermatitis,
periorbital or generalized hypermelanosis. Occasionally FDE mimicked
lichen planus,
erythema multiforme,
Stevens-Johnson syndrome,
paronychia,
cheilitis,
psoriasis,
housewife's dermatitis,
melasma,
lichen planus actinicus,
discoid lupus erythematosus,
erythema annulare centrifugum,
pemphigus vulgaris,
chilblains,
pityriasis rosea and
vulval or perianal hypermelanosis.