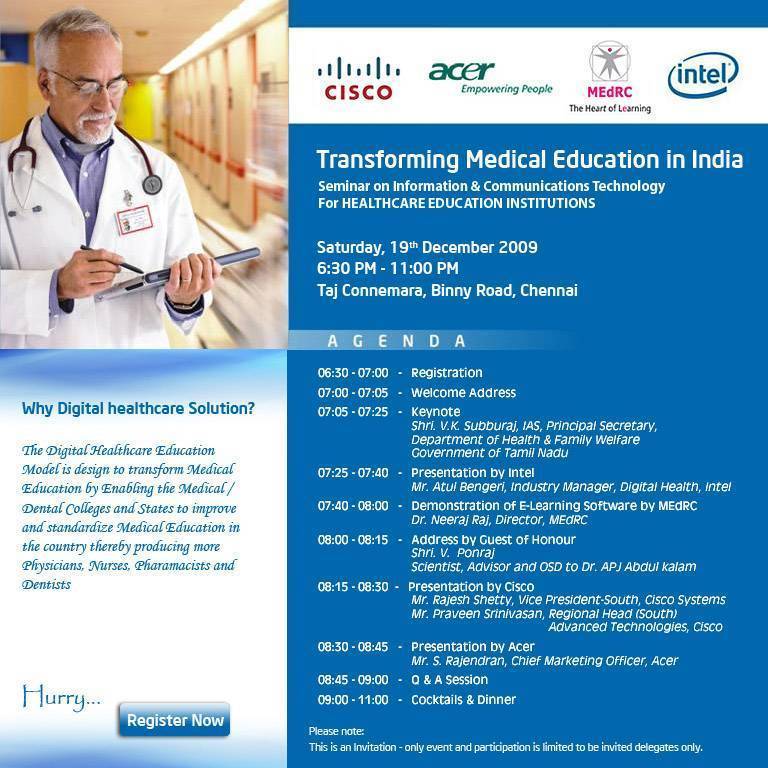 MEdRC, Intel, Cisco and Acer are organising a seminar on
Information & Communication Technologies for Healthcare Education Institutions
at Chennai on Saturday the 19th of December 2009
as part of our initiative to
"Transforming Medical Education in India".
Shri V.K. Subburaj (Principal Secretary, Department of Health & Family Welfare, Government of Tamil Nadu)
and Shri V. Ponraj (Scientist, Advisor and OSD to Dr. A.P.J. Abdul Kalam) shall be participating in the program.
I am attaching an E-Invite for the same and request you to kindly join us.
I thank you for your encouraging and sustained support to our endeavour over the years.

Warm Regards,

– Dr Neeraj Raj
+91 9849022365
MEdRC EduTech Ltd.
LalitaTowers, 6-3-1089/A/3, Asif Avenue
Rajbhavan Road, Hyderabad 500082, India
Tel: +91-40-23316223, 23316243
Website: http://www.medrcedutech.com
E-Learning Portal: http://www.smarteach.com (request for guest password)
Demo: http://www.smarteach.com/content/medrc/demos/menu.htm
Company Profile: http://www.smarteach.com/medrc/MEdRC_Profile.pdf
!